When summer comes, all children go on holiday and look forward to a long-awaited break. But how to make this time interesting, fun, exciting, and unforgettable? Here is a list of holiday activities that kids can enjoy at home, outdoors, and in other interesting places.
Holiday activities for kids
Where to go, how to have fun, how to play, how to hang out and communicate with friends? There's always something to do on holidays if you have a bit of imagination.
1. Spending time outdoors
In fact, it is very easy to spend a good and fruitful time with your child: just go for a walk and try to make it interesting. Plan things to do together with the kids. Visit interesting places and events. Travel and find adventures.
Singapore has a lot of various parks and sites:
Visit Pororo Park: Pororo Express Train, Meet and Greet! Children will love the large playroom, mini car racing tracks, slides, obstacle course, Pororo Express train and Pororo Meetings! During the school holidays in March, special daily lessons are conducted on weekdays, which are definitely worth attending.
Visit Fort Siloso. The heavenly Fort Siloso offers a stunning viewing platform and bridge with a panoramic and picturesque view of Centoza and its greenery.
Take the children to Tayo Station, where you can find a car hire centre and a playground. Play with the kids at the Tayo Station indoor playground, where there are interesting attractions such as a three-storey Gani playground and a ball pool with a rock wall!
Burn off some energy at the SuperPark indoor playground. The SuperPark indoor playground is suitable for children of all ages, so it is the ideal place for siblings during the school holidays!
Have some fun at Centoza with cable cars, beautiful beaches and sledging.
Choose from over 100 fun activities for kids in Singapore. Children will have fun burning energy, running, jumping and enjoying various activities from slides to swings and zips!
2. Visit a holiday camp
Visiting a summer camp can be a great idea to keep your child busy during the holidays. As a rule, summer camp programs offer many interesting activities. For example, the Newtonshow holiday camp for kids in Singapore offers a 5-day program that has two types of programs:
Science camp that offers various scientific experiments. Every season, programs are dedicated to a new theme, for example, Harry Potter, Superheroes or Space.
The multi-activity camp where children are engaged in different activities, such as robotics, science, art and cooking, so children try something new every day.
At the camp, children will have an opportunity to discover the world of science and explore their interests in a fun and engaging way. Additionally, they will be able to make various things with their own hands, such as:
Magic 3D puzzle
Mars soil
Solar Sistem Slime
Planet Earth model
There are different summer camps for children so you can choose a program interesting for your child. In summer camps, children can learn something new, have fun, and also find new friends.
3. DIY Activities
Making something with your own hands is a great way to spend holidays at home. It doesn't matter what you make, it's all about the fun! We have prepared several ideas for craft activities.
DIY Bath Bombs
Kids will love making their own homemade bath bombs (which is a great favor idea for a birthday party). After they understood the technique, you can try to experiment with shapes, colours and fragrances.
Felt Flower Bouquet
Felt flowers are great for kids' DIY activities because they can be made without sewing. Children can use them to decorate their rooms, put in a pencil cup, or use as a bookmark, and they can also make nice Mother's Day gifts!
And many more different and interesting ideas can be found on the Internet. Just use your imagination!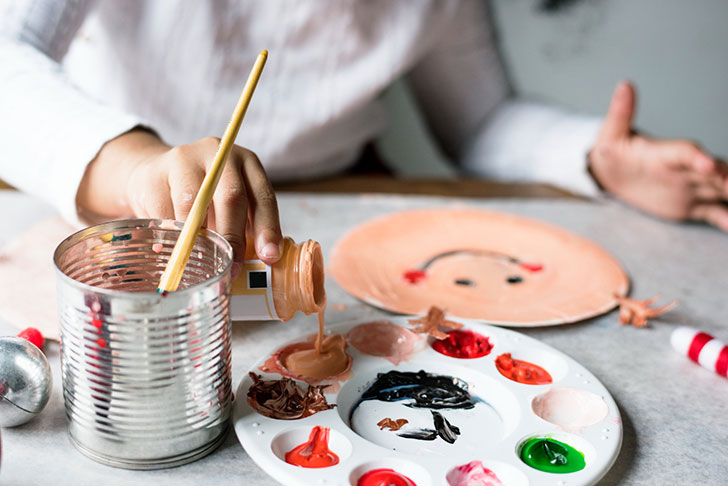 4. Become a video blogger
Make your holidays unusual and fun! Start a holiday vlog.
Video blogs are a great way to express yourself and interact with the world. It's also useful to record and narrate yourself on video, as it improves your verbal skills and teaches you to stay in front of the camera.
Write a video diary about how you are spending your holidays. You can keep a daily talk about your day, and share interesting thoughts and achievements. You can start by filming yourself on your mobile phone and using basic video editing software. But it is not necessary to post vlog records on the internet. You can store them in your personal archive if you are not ready to attract an audience.
5. Fitness Exercises
Engaging the whole family in sports activities is a great idea. Parents should be the example for their children to show them that sports and physical activity are not only beneficial for their health but also enjoyable. Experts claim that the earlier your child understands that engaging in sports together is a beneficial and interesting family tradition, the easier it will be to maintain their interest in sports and a healthy lifestyle.
It's not necessary to choose difficult sports. Your child can participate in such activities as:
Fitness workouts;
Yoga classes;
Sports dancing;
Trampoline jumping;
Active games.
Parents can play with their children outdoors: jump, run, play ball, and splash in the water. Active games can be an excellent substitute for sports.
6. Watch your favorite movies/TV shows
There are many ways to spend time together as a family, and one of them is to go to the cinema together. Choose an upcoming movie and watch it on a big screen together. As an alternative, you can always watch your favorite movies/TV shows at home in a familiar and relaxed environment. After all, there is nothing like getting the whole family together in the evening, sitting comfortably in front of the screen and watching a nice comedy.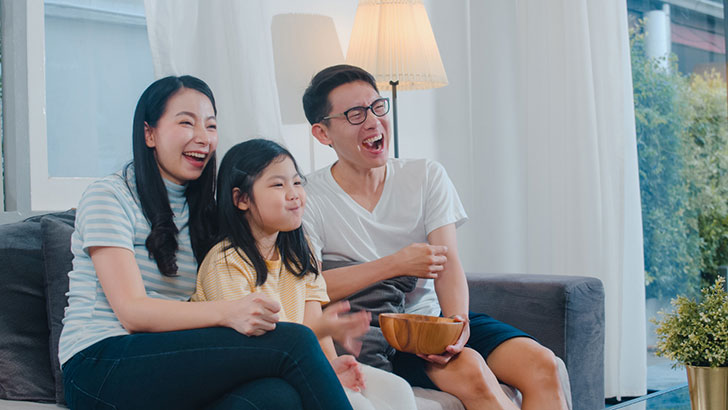 7. Learning to cook simple dishes
Cooking with little helpers is a very exciting process and we cannot imagine how important it is for our children.  Children are able to follow simple recipes and cook easy meals. The only thing needed is desire and practice. Show the little chef that cooking is about creativity but not routine and that it can be exciting and fun.
Cooking is a great way to develop fine motor skills and to show your child how important is independent cooking. And, of course, it's a great way to spend more time with our children.
8. Reading books
The academic year has ended, and summer vacations have begun. Children are relaxing and recharging before the start of the new school year. But summer is not just a time for rest, it's also a time for preparing for school and gaining new knowledge. Reading is the foundation of learning and the most beneficial form of leisure. The ability to read largely determines a kid's success at school.
As a rule, the summer reading list consists of required and supplemental reading. However, allow your child to read what they want, such as:
Stories about animals;
Books about fun adventures;
Educational encyclopedias;
Magic fairy tales;
Science fiction books.
There is no need to strictly adhere to the school curriculum. It's important to give your child the freedom to choose. If they have different literary preferences, let them read what they like. The most important thing is that these books are true of interest to your child.
9. Visit interesting educational places and events
The benefits of visiting museums for children do not require any proof. Such activities provide an unforgettable learning experience, stimulate children's imagination, make them familiar with unknown worlds and objects, and provide a unique chance to have great time together as a family.
The Singapore Children's Museum is the first museum intended for children under the age of 12. With interactive training, a garden maze and a children's free play module, your children will have plenty to do. It is a safe place where children can run and interact with multi-sensory developmental toys that acquaint them with Singapore's history.
10. Board games
Board games are another great idea of what to do for a child at home during the holidays. Board games train logic, reaction, and memory. Here are some cool board games for the whole family:
"Cash Flow": explains economic processes, develops skills of mental counting of large numbers and increases financial literacy;
"Zeus on Holiday": trains verbal scoring, and reaction;
"Cortex": trains memory, speed of thought, reaction, coordination, and attention.
It is not necessary to play according to the existing game rules. If the board game is too complicated for someone from the family, try to change the rules or create your own, using the available resources such as dice, cards, or chips.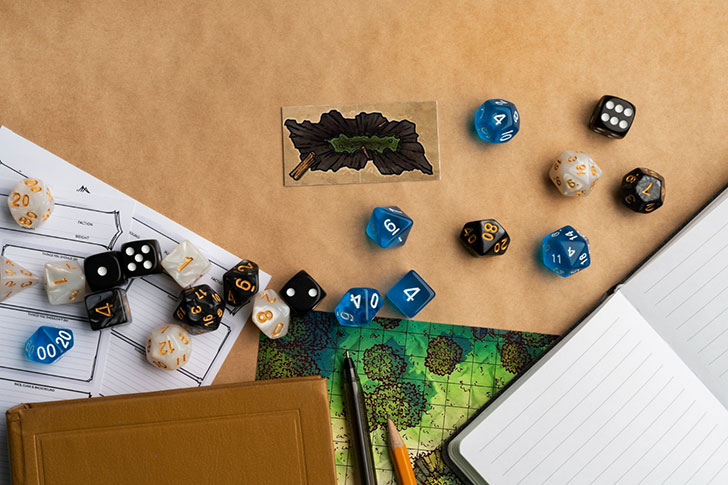 11. Visit a zoo or farm
Visiting a zoo can be a great idea for a family holiday. Such a pastime will not only be fun but also useful if we consider the opinion of teachers about visiting the world of animals.
A zoo is an excellent place where children can learn about the species, habits and habitats of wild animals and birds, including exotic ones, in a safe environment. In this case, its main purpose is to help parents demonstrate the knowledge their child has learned from books or television. An added 'bonus' is that in the zoo, aviaries and cages are usually designed in a style that best suits the habitat of animals and birds. In this way, the young naturalist will not be acquainted with the fauna but also will have an opportunity to investigate the flora of the animal's home.
A visit to the zoo is a great way to stimulate the child's imagination. Stories told by parents about animals and birds during a visit to the zoo, especially in the form of dialogues with simple questions such as "What do you think?", will help the child to develop figurative thinking and speech at any age.
Conclusion
Now you know how to spend time with children on holidays, having fun and learning at the same time. In Singapore you can find dozens of entertainment options for kids to make their holidays fun and exciting.
If you do not have time or opportunity, you can use a ready-made solution. Holiday camps for kids such as Newtonshow are specially designed for children to have fun, relax and learn at the same time.
The most important thing is to ensure that your children have a memorable and enjoyable break.