WHAT IS EZ-LINK CARD?
It is a kind of smart card, which can be used to pay transport fares on buses, MRT (metro), taxis, and other private transport means. It is also helpful when you need to buy foods and drinks from food & beverage stores, and vending machines.
WHERE TO BUY EZ-LINK CARD?
Since Ez-link card is an important and powerful card in Singapore, each Singaporean has at least one Ez-link card in their wallet. Once something is popular, the access to it is easy. Theoretically, you can buy this card at:
Passenger Service Centers at most MRT stations
TransitLink Ticket Office and Concession Card Replacement Offcies at MRT stations and bus interchanges
7-Eleven stores
Buzz Pods
My Ez-link Online Shop
If you want to ride MRT to get from Changi Airport to somewhere in the city, you should buy your Ez-link card at Changi MRT station, which is located at the basement of Terminal 2, before boarding a train.
HOW MUCH DOES AN EZ-LINK CARD COST?
If you buy a new card at a 7-Eleven store, you will pay SGD10 ($7.29). The card itself cost SGD5, so you have SGD5 as stored value to be used.
The Ez-link cards available at Passenger Service Centers have the price of SGD12 each. It means the stored value is SGD7.
Note that your Ez-link card needs a minimum amount of SGD3 ($2.20) to be used on buses and MRT.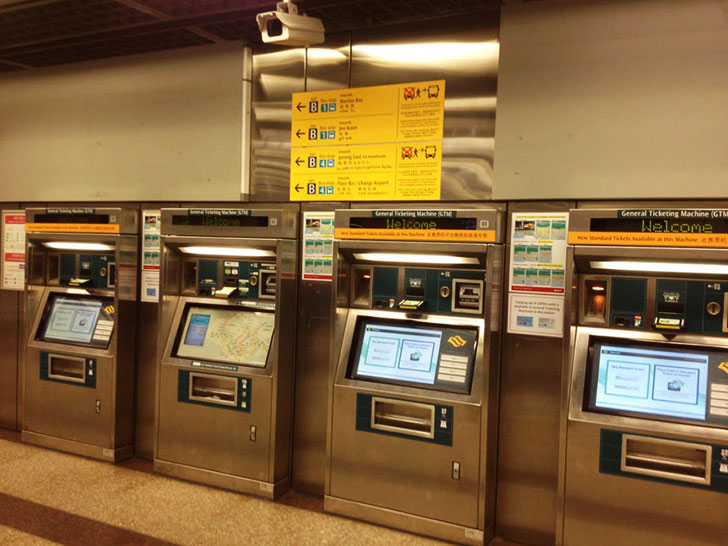 General ticketing machines are provided at all MRT stations for you to conveniently top up your card. You can also add more stored value into your card at 7-Eleven stores.