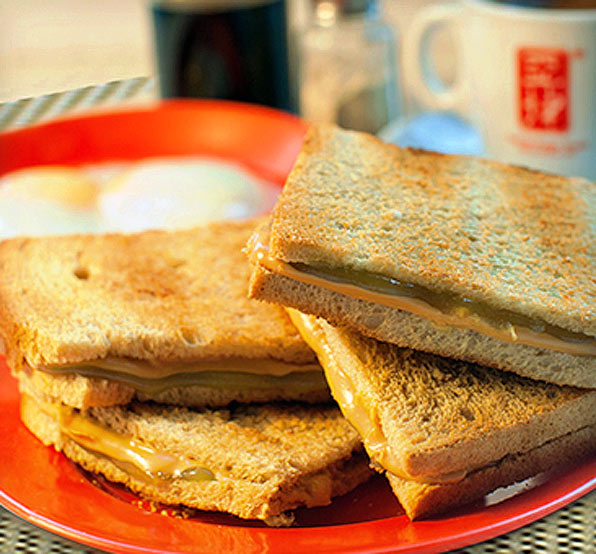 (Image: Ya Kun Kaya Toast)
Want to have breakfast like a Singaporean while you are in our Lion city? Choose kaya toast.
Kaya toast is toasted bread filled with butter and kaya, a jam made from eggs, sugar, coconut milk and pandan leaves. The dish flavors will be enhanced when matched with half-boiled eggs, and hot tea or black coffee.
These days, Kaya Toast is considered as not only a national breakfast dish but also a popular snack that delights tea breaks of office workers and recharges tired shoppers after a long shopping tour.
It is not difficult to find this sweet dish in Singapore. You can get it on every corner of the country, from food court stalls, old-school coffee shops to air-conditioned franchise outlets in modern shopping malls.
Our below list features the most delicious kaya toast that Singaporeans cannot live without.

---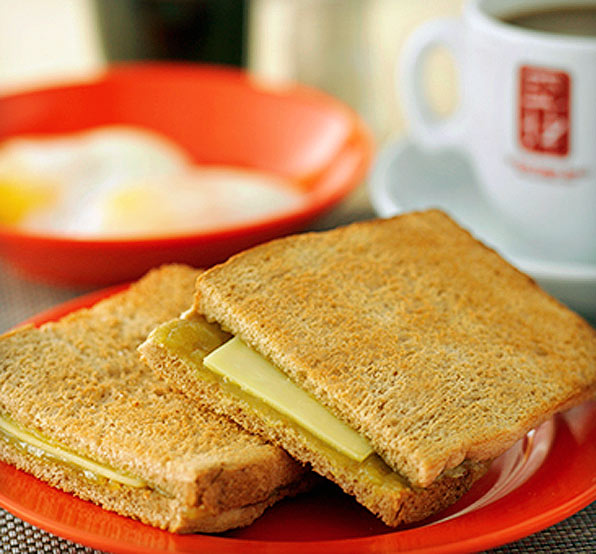 (Image: Ya Kun Kaya Toast)
Highlights
More than 40 outlets, conveniently located across Singapore: With outlets sprout up at most of the major shopping centres across Singapore, Ya Kun Kaya Toast is the most accessible kaya toast destination for tourists to experience a Singaporean style breakfast or for locals to have a fix of kaya toast.
Charcoal grilled toast at the original outlet: To experience the toast grilled in the original way by the "original men" of this brand at its original location, make your way to Ya Kun outlet at Far East Square. In its nostalgic atmosphere, members of the Loi family still prepare breakfasts for people enthusiastically.
Value Set Meal, a good start for first timers: Ya Kun's Value Sets feature the traditional way of eating Singaporean breakfast. In that way, the toast never goes alone; it is perfectly complemented by soft-boiled eggs and a hot drink of coffee or tea. Start your day with this kind of breakfast set, you will be delighted and given energy for the whole day.
Ya Kun Kaya Jar, designed to be brought home as a souvenir: Fall in love with this kind of jam? You can bring it home to experience the Singaporean breakfast once again or give it to your friends as a piece of culture of the Lion city.
---

(Image: Killiney Kopitiam)
Highlights
The Singapore's second largest kaya toast chain with more than 20 outlets nationwide: Killiney Kopitiam outlets are conveniently located at popular locations to cater for both locals and tourists.
The longest history Hainanese coffee shop in Singapore: Founded in 1919, Killiney Kopitiam has been around for almost a century. The original outlet at Killiney Road has stood there since its establishment, and still retains the typical look of a Singapore's coffee shop in the colonial times.
Killiney Kopitiam's kaya, a strong-egg-flavour version: Made with the right sweetness level and the abundance of eggs, Killiney Kopitiam's kaya turns out as a good choice for egg lovers. Kaya jars are available to be taken away.
Hainanese style coffee with authentic flavour: Want to have a true taste of Hainanese style coffee? Have it at the original outlet of Killiney Kopitiam. The quality now still lives up to the standard set by Mr. Ah Gong, who has spent 54 years of his life in brewing coffee.
Available at Changi Airport, spreading from Terminal 1 to Terminal 3: Those who want to say "hello" or "goodbye" to the Lion city in a Singaporean unique way, visit Killiney Kopitiam outlets at Changi Airport for a taste of Singapore must-try food. Delicious and affordable kaya toast can be grabbed as a quick bite for on-the run-passengers.
---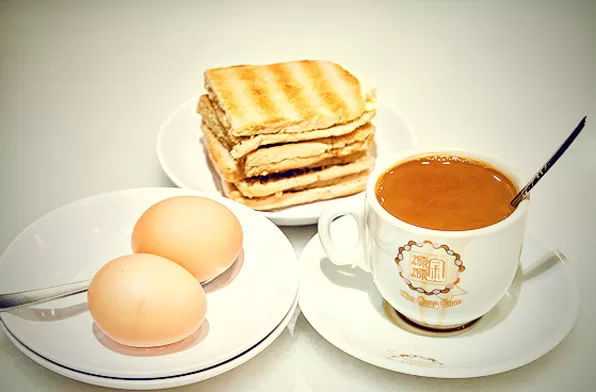 (Image: Katrina.alana)
Highlights
Kaya toast with a twist: Good Morning Nanyang Cafe adds a new flavor and value to the world of kaya toast by creating its own style. Go out of the usual way, this young establishment uses ciabatta, an Italian type of bread, in its recipes to introduce diners a new enjoyable version of kaya toast.
Orange ciabatta kaya toast, a start dish at Good Morning Nanyang Cafe: Great texture, taste and fragrance make this dish impressive. The ciabatta is slightly toasted, leaving the outer layer crispy and the inside soft. It becomes delightful when a hint of caramelized orange peel is added in to complement the kaya and butter in a fresh and unique way.
A kaya recipe from Segamat: Good Morning Nanyang Cafe's kaya is different yet dazzling. Its grainy texture won't decrease the level of enjoyment, but works like a vehicle for holding all the best flavours to give the palate with the strongest dose in one single bite. This green and not-too-sweet kaya is freshly made every day at the shops, following a secret recipe of an old man from Segamat.
One of the best traditional coffee in Singapore: Both black coffee and coffee with condensed milk are aromatic and strong in the way traditional coffee should be. Use it as a life-saver to keep you awake.
---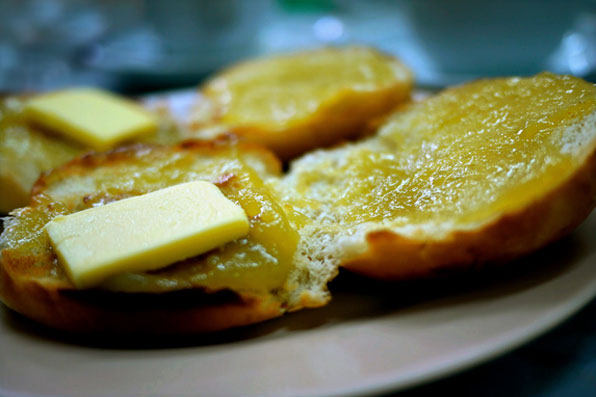 Highlights
It is Kaya Bun: Round bun is the thing that sets Chin Mee Chin's kaya toast apart from its counterparts. While some fall in love with the crispy toast, some are much more into the slightly crispy outside and fluffy inside bun. If you are a fan of the latter, Chin Mee Chin will serve you the sliced-into-half buns, spread with a thick layer of kaya and topped with the salty butter.
For a dose of nostalgia: Started since the 1960s, and things at Chin Mee Chin haven't changed much since its establishment. There are still the tiled floor, marble-top tables, ceiling fans, and steel cabinets displaying the baked goods. Survived through the modernization, this age-old coffee shop is simply a place that people of all ages and backgrounds visit to take a dose of nostalgia.
Chin Mee Chin baked goods, dazzling memories of baby boomer generation: Besides kaya buns, Chin Mee Chin is also famous for its baked goods such as cream puff, egg tart and chocolate cupcake. Those sweet things may be not so beautiful or to the young's taste as ones found at the modern institutions, but they are gorgeous to some, especially baby boomers. The warm baked goods are displayed in the cabinets in front of the shop, help yourself as much as you want and then just tell the staff the consumed numbers when you make payment.
---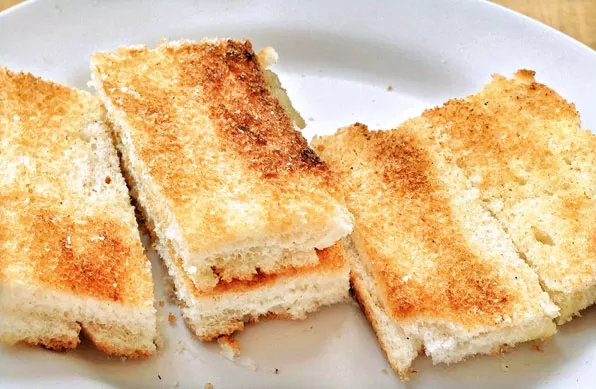 (Image: Noodlefish)
Highlights
New location, unchanged quality: After 75 years standing at the triangular building on Keong Saik Road as an iconic kopitiam, Tong Ah has relocated to its current place with just some stalls away from the original spot. New home, but flavors are familiar. Kaya toast and coffee are still the ones pleasing the palates of many Singaporean generations.
Extra crispy toast, a special menu item: If you want your bread toasted thrice until super crispy, ask for a thing called extra crispy toast. Tong Ah always listens to your preference and makes it best for you.