It's easy to see why buffets are such a huge hit among foodies: it's the easiest and most practical way to sample a great variety of dishes and cuisines in one sitting. Sometimes, however, no matter how extensive the menu is, it reaches a point where the selection becomes tired, repetitive, and almost too boring even. You won't have this problem at J65 – until May 25th at least!
J65 at Hotel Jen Tanglin Singapore has just recently launched 5 new daily themed dinner buffets, each guaranteed to excite every foodie in town. From this point forward, you might as well refer to days of the week as "International Buffet", "Colours of Asia", "Lobster Rock 'n' Roll", "Live Barbecue", and "Seafood Mania".
If that doesn't sell the idea to you, maybe the words "all-you-can-eat dessert buffet" will. That's right; a dessert buffet perfectly complements the scrumptious savory dishes. The buffet spread features local and international delights, and you will actually find yourself having a hard time deciding which ones are your favorite. As far as classic favorites go, you should never forego J65's durian pengat. It's neither the best-looking nor the best-smelling dessert but one teaspoonful of it and you'll fall in love with this rich and creamy specialty. Other desserts to save tummy space for are their variety of cheesecakes, eclairs, and homemade ice cream.
Now, on to the weekly calendar of smorgasbord goodness:
SUNDAYS & MONDAY (18:00 – 21:30) – INTERNATIONAL BUFFET (S$55++ Per Pax)
Sundays and Mondays are perfect for foodies who want to sample the best of major international cuisines. The carving station takes center stage on Sundays and Mondays – Virginia ham with honey lemon sauce, slow-baked whole salmon, roast pork knuckle, and the crowd's favorite, prime rib with roasted potatoes, butter asparagus, and baby carrots.
The Japanese station features a decent sushi, sashimi and maki spread that may not be as extensive as in other buffet restaurants, but the freshness of the produce makes up for it. The Indian station is also a show-stopper, drawing in crowds to classic dishes such as paneer lababdar, hara moong dal tadka, and an assortment of curries.
TUESDAY (18:00 – 21:30) – COLOURS OF ASIA (S$55++ Per Pax)
Tuesdays are all about what makes Asia a culinary mecca for foodies – a colorful exhibition of the vibrant flavors of Asian cuisine. There's hot and sour seafood tom yum goong from Thailand; pol roti from Sri Lanka; therapeutic bak kut teh – Singapore's favorite soup; and tandoori dishes from India. What makes Tuesdays even more interesting is the live preparation of some Asian specialties such as teh tarik, roti canai, and tandoori.
WEDNESDAYS (18:00 – 21:30) – LOBSTER ROCK 'N' ROLL (S$65++ Per Pax)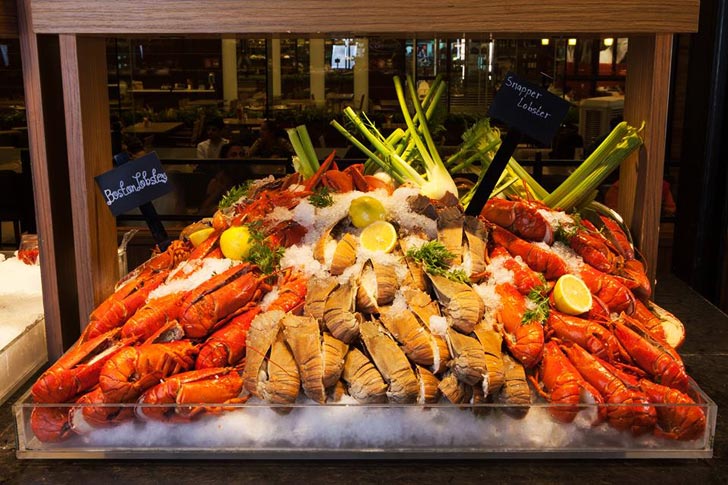 If lobster is on the menu, you can almost guarantee you're getting your money's worth. Not only are there several lobster dishes on the buffet spread, there are different kinds of lobster, too, such as Boston lobsters, mountain lobsters, and slipper lobsters. Drool over lobster paella, Singapore lobster laksa, and lobster bisque. A definite crowd favorite is baked lobster thermidor, which is basically lobster stuffed with mushroom and topped with cheese and then baked until the crustacean is perfectly succulent while the cheese is all oozy and melty.
THURSDAYS (18:00 – 21:30) – LIVE BARBECUE ($65++ Per Pax)
It's almost impossible to think of the word "barbecue" without images of festive nights with your family and friends flashing in your brain. That is exactly what J65's "Live Barbecue" night is all about – a feast that features hunks of meat and fresh seafood dancing atop live charcoals.
Satay lovers will be delighted to find out that chicken and mutton satay are refilled even before the last stick gets snatched off the serving platter. Other specialties worth lining up for are crispy pork belly, braised duck, champagne pork ribs, and Korean pork belly strips. A definite must is the heavenly suckling pig – with fatty, crispy skin that is worth every calorie.
FRIDAYS & SATURDAYS (18:00 – 22:00) – SEAFOOD MANIA (S$65++ Per Pax)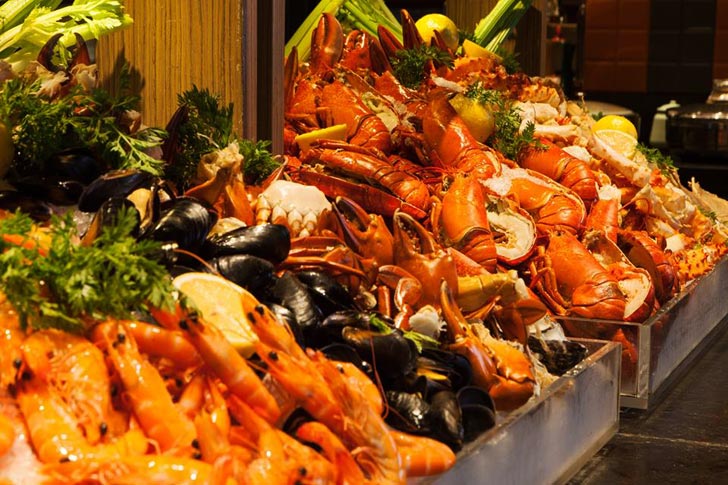 Seafood Mania night is a veritable exposition of the glorious offerings of the vast ocean. Think of all your favorite seafood, and it's most likely to make an appearance: mud crab, Alaskan crab, prawns, Boston lobster, mussels, and clams. It must also be emphasized that there is a live oyster station where Australian oysters are shucked upon a diner's request. The oysters are plump, fresh, briny and sweet at the same time; in short, perfect.
J65
Hotel Jen Tanglin Singapore, Level 1
1A Cuscaden Road, Singapore 249716
T: (65) 6831 4374