Crab is very much a part of Singapore's culinary, so much so that the Singapore Chilli Crab was elected one of the country's national dishes. Plaza Brasserie at ParkRoyal on Beach Road celebrates Singapore's love affair with the delectable crustacean by bringing back its acclaimed buffet, the Ultimate Crab Feast.
If you're wondering what makes this year's Ultimate Crab Feast better than the previous ones, Chef Ken guarantees a spectacular buffet spread that features seven mouthwatering crab recipes that will have you never letting go of the crab cracker.
The Ultimate Crab Feast at Plaza Brasserie, of course, isn't only about divine crab dishes. The buffet spread includes a grand variety of sushi and sashimi, rotisserie, and other seafood such as prawns and oysters. It is offered during dinner starting on April 9 to June 28 on Sundays through Wednesdays. Buffet rates are at S$41++ for kids and S$68++ for adults.
7 heavenly recipes, 7 delicious reasons to check in at the Plaza Brasserie:
1. BLACK PEPPER CRAB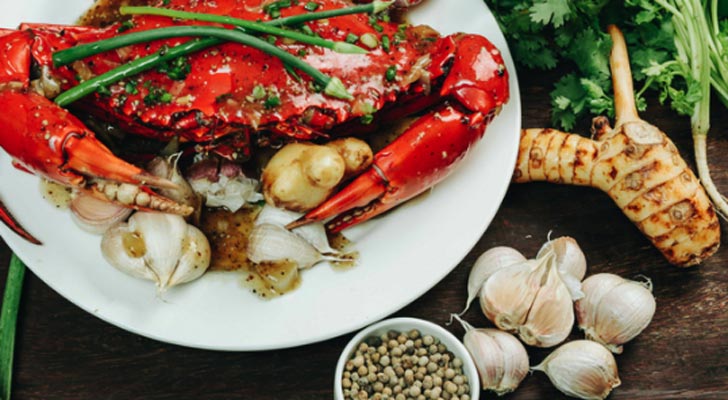 Black pepper crab is a truly classic crab dish that Plaza Brasserie has perfected over time – never to be missed.
2. SINGAPORE CHILLI CRAB
Not to be missed on the list, of course, is Singapore chilli crab because a crab buffet without Singapore's national dish is travesty, a betrayal to the culinary heritage of our beautiful nation.
Chef Ken's rendition of Singapore chili crab features luscious mud crabs gracefully bathing in a thick sauce that is the perfect balance of savory, sweet, and spicy. Pair it with freshly cooked mantou buns because that is the only way to go.
3. SALTED EGG CRAB
Plaza Brasserie's umami-packed salted egg crab is rich, creamy, and generous – all the qualities that you want in an excellent salted egg crab recipe.
4. SAMBAL PETAI CRAB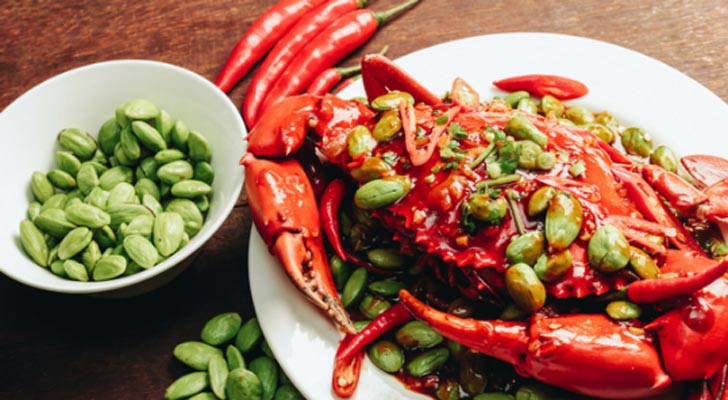 Sambal petai crab may be the least popular among crab recipes but that doesn't mean it ranks the lowest in flavor. Take advantage of the Ultimate Crab Feast to get acquainted with this unique dish.
Chef Ken's masterpiece is a delightful marriage of the intense flavor of sambal and the bitterness and crunch of petai beans. It would come as no surprise if there's a clamor for this new dish to be a mainstay at Plaza Brasserie's annual Ultimate Crab Feast.
5. CEREAL CRAB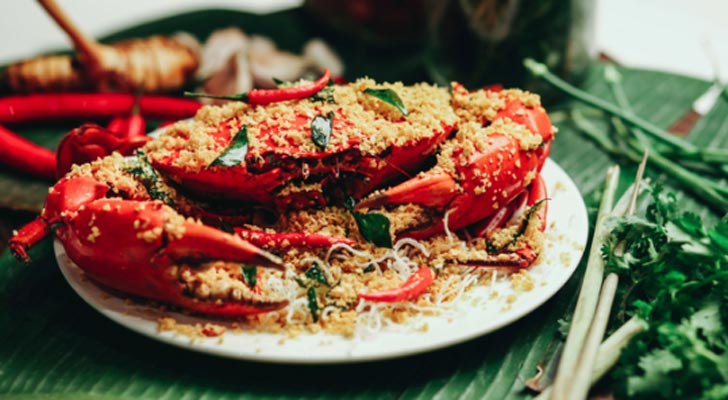 Great news to all cereal crab fans! Cereal crab has finally made it to the UCF repertoire! The contrast between the crunchy and sweet oat cereals and the soft and savory crab flesh makes graceful tiny dances on the taste buds. The curry leaves, on the other hand, wraps up the whole dish with a sensational aroma that would get you all giddy with anticipation.
6. GINGER HUA TIOW CRAB
Ginger Hua Tiow crab is the perfect dish for foodies who appreciate a light but sublime flavor. Crab is simmered in a wonderful broth of Hua Tiao wine, ginger, garlic, and parsley. One sip of the broth will give you feels akin to when you were a little kid being doted upon by your sweet grandma – warm, comforting, and homey.
7. CURRY CRAB MEAT KUEH PIE TEE
Chef Ken gives these crispy pastry shells an upgrade by filling them up with spicy curry crab and pillow-soft stewed turnip. These appetizers are sure to whet your appetite for more glorious crab dishes.
Plaza Brasserie
PARKROYAL on Beach Road, Level 1
7500 Beach Road, Singapore 199591
Tel: (65)6505 5710
Buffet time: Sun to Wed 18:00 – 22:00
Buffet prices: Adult $68 / Child $41