SITEX 2019, Singapore's only consumer lifestyle IT exhibition, returns from 28 November to 1 December at the Singapore Expo, Halls 5 and 6. With an exciting line-up at the Gaming Zone, this year's edition is primed to pique the interest of gamers, gaming and technology enthusiasts and digital artists.
Aimed at engaging a wider audience from varying skill levels and ages, the revamped and augmented Gaming Zone will have something for everyone. With free-to-play gaming experiences ranging from mobile and consoles to arcade classics and esports tournaments, even the little ones can join in the fun. Attendees can also look forward to participating in digital arts workshops offered by the East Asia Institute of Management (EASB). James Boey, Executive Director of SingEx Exhibitions, said, "The Gaming Zone at SITEX 2019 has been carefully curated to promote inclusivity and provide interactive experiences for visitors from all ages and backgrounds. We want to attract families, avid gamers and designers to enjoy a full spectrum of gaming opportunities and digital art at the exhibition. Through the various new initiatives in place, we are confident that visitors will be thoroughly engaged at this year's Gaming Zone—a true reflection of SITEX's longstanding concept of a 'Digital Playground'."
"SGTech is committed to bringing tech to the community. Hence, we have revamped the Gaming Zone at SITEX 2019 to be more interactive and inclusive, allowing us to bring gaming closer to the masses. This year's show also introduces engaging content in the form of digital art workshops. With the updated format of SITEX, we provide a good platform for providers of consumer electronics to connect with consumers in a novel way," said Wong Wai Meng, Chairman of SGTech.
A Myriad of Gaming Experiences
Whether you're a professional gamer or a parent looking for some family-friendly activities during your weekend outings, SITEX 2019 is the place for you. This year's inclusive Gaming Zone will allow attendees from all walks of life to experience the different types of games that will be on showcase during the four-day event.
SITEX 2019 have announced an interesting line-up of games that will be available for everyone to engage in at the Gaming Zone's FreePlay Area.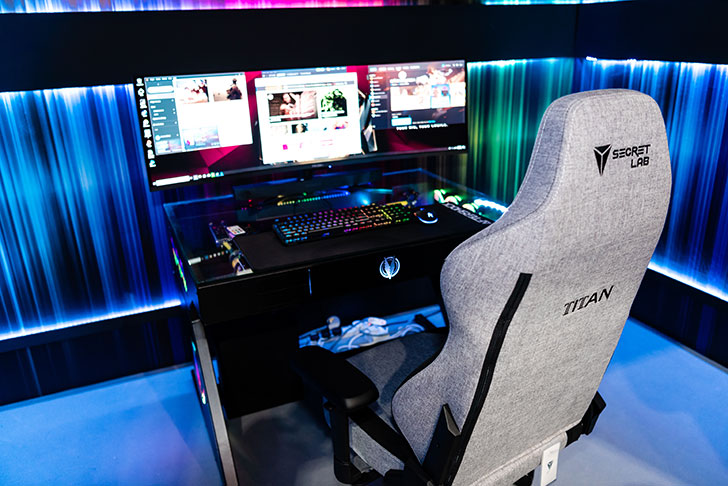 Leading gaming brand MSI have announced their involvement at the 2019 edition of SITEX. Stand a chance to win some attractive prizes at the MSI Carnival Zone by taking part in the MSI Gaming Triathlon Challenge 2019. Suitable for the young and old, players will face off in three separate 1v1 game challenges randomly drafted out of a pool of 10 games which include golden classics like Tetris and Puzzle Bobble and modern day favourites such as Street Fighter V and the newly released FIFA 20.
For mobile gaming fanatics, get your hands on PUBG (PlayerUnknown's Battlegrounds) Mobile exclusive PUBGM X Vivo Premiums that will only be available at SITEX. In addition, battle it out with a game of PUBG Mobile and experience vivo's gaming smartphones while you're at it.
Be transported back in time as the updated Gaming Zone plays host to arcade classics like Columns, Bomberman, Mario Kart, Metal Slug X, and old school "versus" fighting games such as Super Street Fighter II. Traditionalists will be able to enjoy consoles from yesteryear including SEGA Saturn, Nintendo Entertainment System, Neo Geo, and the original PlayStation, among others.
The 2019 edition of SITEX will also look beyond the world of technology to bring together a community of "offline" gamers. Gallant Games, a game store in Singapore, will be participating in the exhibition this year. Avid gamers can expect to meet with like-minded and fellow enthusiasts through the different card and board games that Gallant Games will be bringing in, including popular table top role-playing game Dungeons & Dragons as well as miniature wargames Warhammer 40,000 and Warhammer Age of Sigmar.
Level Up Your Game
Gaming enthusiasts and professional gamers can power up at SITEX 2019 with the latest gaming gadgets and accessories from custom gaming computer company Aftershock PC and home-grown gaming chair company Secretlab.
Dell will also be showcasing their latest Alienware Aurora Desktop R9. The new Alienware Aurora Desktop R9 is an absolute delight for gaming enthusiasts. Strengthening the "Legend" design identity, the aesthetically designed exterior,available in the two variants Lunar Light and Dark Side of the Moon, complements the powerful performance. This latest gaming sensation comes with an unmatched thermal design that is equipped with the innovative PSU swing-arm, allowing airflow through the side vent, thereby efficiently reducing CPU temperatures to ensure a stable performance and higher overclocking—resulting in higher frames per second while gaming. For the uninterrupted and lightning speed gaming experience, the desktop also boasts enhanced network connectivity solutions.
Digital Art Attack
On top of the chance to participate in digital arts workshops, attendees will also be privy to the inaugural Digital Arts and Technology Battle Arena competition. Jointly presented by EASB and SITEX, the competition seeks to attract top talent from Singapore and around the region. EASB and Lionheart Studio are offering over S$380,000 worth of study grants and scholarships at the School of Design, Media & Arts to 30 finalists across three categories: Game Design & Development, Digital Game Prototype; Digital Art Champion and the Ultimate Speed Painter Contest. More details on the competition requirements and guidelines can be found at http://easb.edu.sg/en/sitex-competition.
For more information and updates about SITEX 2019, please visit the official website at http://www.sitex.com.sg/ or the social media pages.
SITEX ON SOCIAL MEDIA
Official Facebook: SITEX – Your Digital Playground
Official YouTube Channel: SITEX SingEx
Official Instagram: @sitex2019