For a super cheap way to get to the city from the airport, the MRT is a great choice! However, if you are carrying a ton of luggage, it may be difficult to maneuver!
The MRT station is situated at the basement of Terminal 2. You cannot help but find the way to Terminal 2 in order to get on board, no matter what terminal, 1, 2 or 3, you are arrived at. Make it simple this way:
Know where you are (Terminal 1, 2 or 3).
Follow the signs "Train to city" to get to the MRT station nestled at Terminal 2. If you are at Terminal 2 or 3, then you can walk to the station. Those arrived at Terminal 1 can reach Terminal 2 by riding the sky train.
Buy the Ez-link card at the customer service counter at the basement of Terminal 2
Tap the card at the card reader to get access to where the train pick up customers
Get in the train (which only runs back and forth between Changi Airport station and Tanah Merah station)
Alight at Tanah Merah station, you have to do so in order to catch a Green line train that will take you to city.
If your accommodation is somewhere close to a green line station like Kallang, Lavender, Bugis, City Hall and Chinatown, then you can easily get there by just riding the airport train and Green line train.
But if your hotel room is close to a station of Red line, Purple line or others, then you will need another transfer at an interchange station. See the map below for more ideas.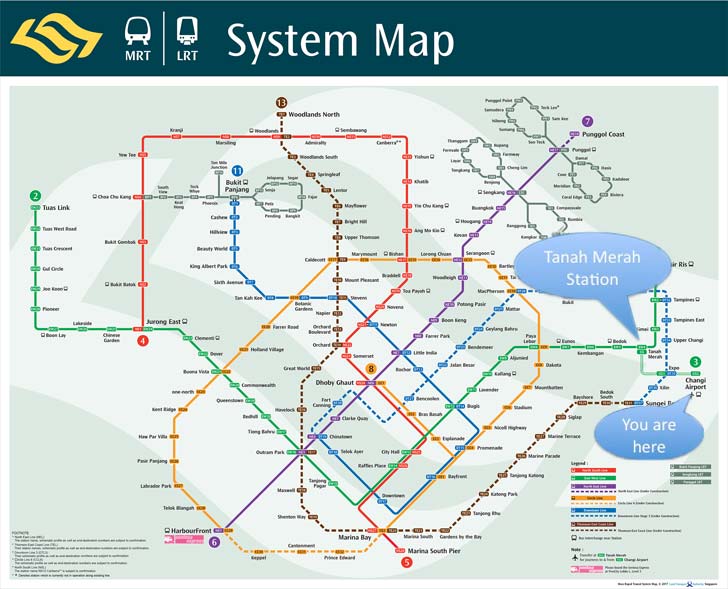 The MRT schedule is very frequent, with a new train every 7-9 minutes during peak hours (8am-9am; 12.30pm-2pm; 7.30pm-10.15pm), and 12-13 minutes during off-peak times. The MRT runs from 5.31am-11.18pm from Monday to Saturday, and 5.59am-12.06am on Sundays and Public Holidays.
Each time coming back to Singapore from an overseas trip, I choose to ride the MRT train to get home. Because it is very cost-effective, I need to pay only $1.25 for my ride. Time-wise, it takes around 30 minutes.
But I only recommend travelling by MRT if you are carrying light baggage.
If you and your travel mates have lots of luggage, you are recommended to go with an airport transfer service. Read more here: 5 Reliable Airport Transfer Services in Singapore.